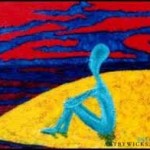 You know there are times in our lives when we have to wait for one thing or another. And usually, we are waiting for something all of the time; whether it be something small or big. It could be waiting for your paycheck every two weeks or waiting for a letter from a school you have applied to, or waiting to marry your significant other at the right moment.
It seems in life there is always something to wait for. And after going a few rounds with the waiting game, we can get pretty good at it. Sometimes we even place ourselves in a waiting pattern. Because we have been trained to wait, we seem to think it's better to wait or smarter to wait for things that we want.  This can be true in some cases, but sometimes, it better to seize the day, "Carpe Diem" as they say. Instead of waiting until the timing is perfect because the timing may never be perfect, we have to condition ourselves to take opportunities that come our way since in our reality, we may be in as good a time as it's gonna get.
So the next time you are faced with an opportunity or something that could potentially be a life changing situation, like a business opportunity or a trip to some exotic land (or exotic to you), you should take it. There is no time like the present and tomorrow is not promised. Stop daydreaming and putting off your life to live vicariously through those on the tv screen.
The one thing I am sure that most of us do not want to do is look back at the end of our days on this planet and regret not taking a chance and seizing an opportunity that has come our way. Of course, there will be things that we will certainly miss out on in life but we don't have to have our whole life's story filled with opportunities that we passed up.
So I said all of this to simply say, if there are things in your life that you want to do and finances among other circumstances have held you back, it's time for you to make a decision to find a way to work towards those things on a daily basis. And if you are looking for a vehicle to get you in a position to start working towards those things that you have put off, you need to check out this opportunity that I am offering you right here.  It only takes 90 seconds of your time yet it could be the most life altering action you can take. I'm not just rattling off for no reason. Click the link below and give the information inside your undivided attention. Don't let procrastination or fear make you think that you have to wait for something good.  Decide to give yourself something right now and start living.
All the best!
Renee Starms