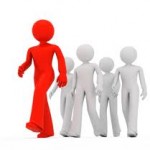 In my humble opinion, there are a few key ingredients to being a good leader.
1.Being a leader means being a servant.  If you have the ability to put others before yourself and truly care that you are creating value in the lives of others, then you have one of the most important ingredients of being a good leader. You genuinely have to care about people.
2. You must have a vision.When you have a dream and a burning desire to fulfill it, it can be contagious and when you come across people of like minds who desire the same things that you want, this can be extremely powerful.  Having a powerful dream requires a vision. And your vision has to be something that you really desire in order to make it come to pass. It has to keep you up at night and make you uncomfortable until you achieve it. If you have a vision this strong it will give you the ability to forge ahead until you reach it and give you the inner energy to have other people follow you to it.
3. Be a good communicator. It is also very important to know how to communicate well with others. If you are serious about building a team, you need to know what makes people tick and what causes them to respond positively.  It doesn't hurt to take time out to read a few books on psychology or persuasion to find out the best way to relate to others in order to accomplish a goal. Also learning how to build others up and encourage them is vital. When people in your organization are growing and feeling  good about themselves it energizes them to do more and do better.
Genuinely caring about people and having a great vision of what you want to accomplish is really important. These are good starting places but to make your vision materialize and lead other people to it as well, you need to be committed.
4. Commitment. You have to decide that no matter what, you are not giving up. It doesn't matter how much it will costs, what you have to learn in order to achieve it, or how many people you must bring on board with you. People are attracted to people who are committed. It is very alluring to be around those who have a strong sense of purpose and are dedicated and committed to seeing their vision through.
5. Good Organization System. Another very important component of being a good leader is having a good system in place, you have to develop a process so things can run smoothly and you can keep track of the progress that you are making towards your vision. This also works well when you are building a team because it allows things to be delegated and keeps you on track.
So there you have it. It really doesn't have to be difficult to be a good leader you just need to approach it with the proper attitude towards those who are working with you and make sure your vision is strong enough to sustain you and your team.
If you have thought about making money online and learning what it takes to be a leader, visit here;
It just requires taking a step at a time in the direction that you desire for you to get there.
Wishing you all the best!
Renee Starms