Social Media Marketing Gone Wild!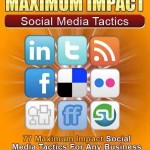 Now that the New Year is here many of us have made various resolutions about the things we are going to do and the goals we want to accomplish. And if you are an internet marketer, you're more than likely decided to rev up your social marketing activities and increase your presence online.  Of course, that would be a very smart thing to do.
Today, there are so many great ways to generate traffic online and there are many sites to choose from. Although we are familiar with most of these sites like: Facebook, Twitter, LinkedIn, etc.   We are not as proficient in knowing how to use them properly. There's so much more to social marketing than just posting your name and business or messaging someone about what you are doing. There is definitely a science to doing it right as well as a few technical tricks it would be in your best interest in knowing.
Developing a daily routine and sticking to it is the best way to really build a solid audience and get the momentum needed to be a lead generating machine. I know we all map out these elaborate plans of what we are going to do daily to make this happen but giving yourself time to get into the groove and be realistic about what you're really going to do is the best way to approach this. Pick a few tactics that you decide to do consistently and develop and daily checklist of the things that you are going to do in each social media platform then build on it if you choose as time goes on.
There is no better way to build your business then to market it online. Even fortune 500 companies are spending millions to reach their customer base online.  We have quickly evolving into a technological society and moving from the industrial. This is now apparent in just about every aspect of our daily experience and communication. Since social media has become such an important part of our lives, it's in your best interest to at least know the basics.
I have included a link with some awesome tips on how to effectively use social media marketing. This will show you cool ways to market and you can decide which ones you would like to incorporate into your social media routine.
Click here to get your awesome social media marketing tips for maximum impact!
All the best!