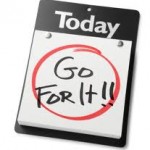 You know, more often than not, you are presented with ideas in life and the timing can seem terrible. The decision you make in this situation is usually one that could change the course of your life.   Sometimes, you have to just go for it regardless of the cost because if things work out the way you intend for them to, you could end up much better off than had you not taken the opportunity.
It's good to remember that the road to success does not always go from a to be to c, or in a straight line. There can be back steps, side steps and zigzags along the way. It's up to you to decide whether or not you are up for the challenge.
Life can be very rewarding for those who take chances. It is so important not to allow fear to stop you from moving in the right direction. When an opportunity is given to you that could potentially shave off years of waiting for you to reach your goals, sometimes, you need to just dig in and use a little elbow grease and give it your all. As the old saying goes, "Nothing beats a failure but a Try."
Of course, you need to weigh the downside of your decision. And if the setback that could be caused within reason and doesn't outweigh the upside then you need to pursue your goals, I am certainly not saying put yourself in danger in anyway. Whether it be physically, mentally or financially. Life is not to be lived in a bubble and anyone who has ever moved and inch from where they were had to put forth some effort.
If you are in a situation right now where you know that you need to get up and do something to change your current situation but you are "waiting" for the right time. I would like to tell you in all sincerely that now is the right time.  There is no need to put off and get moving in the direction that you need to go in to free yourself. If you work 9 to 5 and miss spending time with your family, or you really could use some extra income or just more money to do some things that you have been putting off, then it's time to move.
Ask yourself, what's the worst that could happen? What is so bad about investing in myself and starting something right now no matter what the cost, that I know will take me closer to where I want to be? Why am I putting things off?
If you are ready to take a step in the right direction no matter where your passion lies than I have some awesome information for you that will be very helpful in your journey to reach your desired destination. There happens to be a community of encouraging people who are on the same journey that you want to begin. There are tools both for personal development and business tools that will help you share your passion online and offline. There is also a wealth of other resources that once you click the link below, you can get much more information about.
Don't waste another day putting off what you can do today to make your dreams come true. This is truly an opportunity to increase your value and give you the fuel that you need to get where you desire to go.
Always wishing you the best!
Renee Starms